Latest Posts
Subscribe to this blog's feed

The eBiz Blog
If you enjoy our posts, please share them using the social media options to the left or end of each post.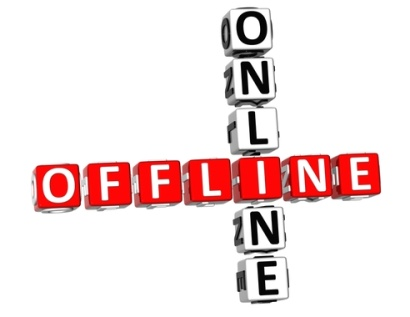 You've got your loan or down payment saved and your killer business idea ready to go. Now you're just months or weeks away from launching the small business of your dreams. However, you're still unsure if you should rent a physical location in town and use a website just to promote your business or sell products only through your website and reach a potentially wider customer base. The best choice depends on what it is your business has to offer — as long as you recognize a dynamic website has a role to play either way.
The Online Business Option
Starting a business online provides a number of advantages the first-time business owner might find especially appealing, including:
A lower start-up cost. Even a quality website with an online store costs less per year than rent, a mortgage or property taxes
The ability to easily reach a worldwide audience, increasing your potential consumer base
The ability to work from home if you're not yet ready to hire other employees
Yet, not all businesses lend themselves to online business. If you sell services instead of products, for example, you probably aren't able to sell them online, unless you offer a service such as writing or making art. Alternatively, your business might not stand out online but could prove a hit in a local area without much competition. For example, if your business sells health food and you're based in a small community without another health food store, you might do better in an actual shop or storefront location.
The Business Online Path
If you opt to keep your business primarily offline then you probably already anticipate a sizable local consumer base. The advantages of this choice include:
No time wasted on chasing online marketing trends that appeal to out of area consumers
A less expensive and less complicated website to maintain
The ability to focus on the local competition
Of course, you'll still need to maintain a website and some level of online marketing. Very few people use phone books anymore. With geo-targeting, your website intended primarily for local customers only can prove effective at driving more customers to your store. But don't forget that most people will access your website on their smartphones or tablets, especially if they're on the move and looking for a local business. Invest in mobile web development software so you can preview your site on mobile devices as you build it. Sometimes a site may look fine on a computer but terrible on a mobile device, and you don't want that to drive potential customers using mobile devices away.
Balancing Both
Many businesses sell both online and in storefronts. When you're just starting out, it's usually a better use of your time and resources to pursue either an online or an offline business, and then look into pursuing the other after the success of the first. Still, if you devote enough time to planning before your launch, it's possible to design an effective business plan that includes both. Just don't attempt a dual launch unless you're confident it's the best option for your company.
Successful businesses can be found among all varieties of online businesses and businesses online. Increase your chances of sustaining your business in the long term by figuring out what your company needs at the start. The U.S. Small Business Administration reports only 49 percent of small businesses last more than five years, and only 34 percent survive more than 10 years. Smart planning could make yours one of those that thrives.