Latest Posts
Subscribe to this blog's feed

The eBiz Blog
If you enjoy our posts, please share them using the social media options to the left or end of each post.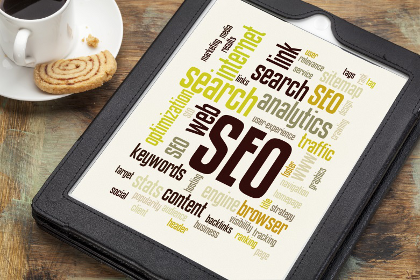 Today's consumers are turning to the Web first to find the products and services they need. When customers in your local area search the Web for products and services similar to the ones you offer, you want your website to appear first - or as close to first as possible. Search engine optimization, or SEO, is a set of standards you can use to help your small business website rank well in search engine results. With good SEO, your business website will be the first one customers see. Good SEO depends on the quality of your content, how well your small business website is designed, and how well you optimize your site.
Target the Right Keywords
SEO keywords are the words and phrases that users enter into search engines in order to find what they're looking for online. If you want potential customers to find your page, you have to optimize it with the keywords relevant to what you offer and/or to your industry. But how can you find out what keywords your potential customers are using for search?
The Google Keyword Planner is a good place to start to help you get keyword ideas. You'll have to sign up for a Google AdWords account in order to gain access to the keyword planner, but don't worry, you don't have to buy anything and the tool is valuable enough to make the sign-up process well worth it. Using the keyword planner, you can find out which keywords and phrases are drawing the most search traffic in your area.
Be sure to check for keywords that pertain to your region or city, especially if you're heavily dependent on local business. If you're a hairdresser located in Tempe, for example, investigate keywords like "hair salon in Tempe" and "hairdresser in Tempe AZ." It doesn't make any sense to target generic keywords if you can only provide your products or services to a specific service area.
Optimize Your Pages
Once you've identified some keywords and phrases for your website, you'll need to use them to optimize your site for search. You'll want to mention your keywords strategically throughout the content of your entire site. But don't go overboard. Search engines will penalize you for "keyword stuffing", or putting in too many keywords for the purposes of SEO. Each site page should target only 3 – 5 keyword phrases at the most with the keywords used naturally and context within the information on the page. You should also use 1 or 2 your keywords in the page title tag, where it will serve as a concise description of your page's content. Your title tag determines how your page appears in search engine results.
Whenever possible, your web page URLs should also contain keywords so that they appear as yourdomain.com/your-keyword. Your meta description tag for each page should also contain a few of the keywords within a 2 or 3 sentence summary of the page content.
Offer Quality Content
Perhaps the single most important thing you can do to improve your website's ranking in search is to offer quality content. Search engines rank websites according to how valuable they are to readers, so the quality of your content has a direct effect on your ranking. You want users to spend time on your website rather than leaving it almost as soon as they find it. You also want them to share pages from your website and leave comments. In order to get users invested in your site, you're going to need to offer unique, well-written content that gives users something they can't get elsewhere. Many small business websites achieve this by maintaining a blog with well-written posts including video and photo content.
The most important thing to remember is to write content for people and optimize it for search engines. The usage of keywords should not be excessive and should be accurate for the content. Don't use keyword, description or title tags that include words that don't actually appear in the content. Those areas are supposed to summarize the actual content. You'll do more harm than good if you try stuffing keywords into areas that are out of context with the content on the page.
If you want your small business website to fare well in search engine rankings, you're going to need to master the basics of SEO. You don't need to be a computer expert to optimize your website for search. As long as you're using the right keywords and offering quality content, the search engine rankings should take care of themselves over time.