Latest Posts
Subscribe to this blog's feed

The eBiz Blog
If you enjoy our posts, please share them using the social media options to the left or end of each post.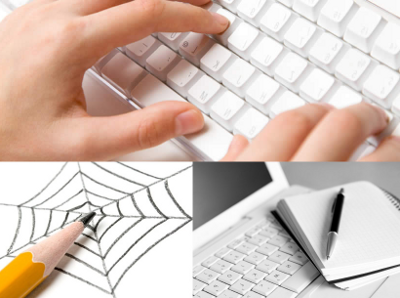 Content writing is one of the most time-consuming and, for many people, difficult parts of putting together a small business website design. Your content lets users know what products and services you offer. It gives you the chance to really sell your business.
The quality of your website content will also be a key factor in driving traffic to your page. When you offer valuable, high-quality content, users will do more than just read it. They'll pass it along to their friends through email and social networks. You'll even earn backlinks from other website owners who appreciate your content, and this will help boost your page in search rankings. To write great website content, keep your audience's needs in mind, write with SEO in mind, and make writing well a priority.
Consider Your Goals and Audience
Before you can write great website content, you need to know what you want your content to accomplish. Do you want users to contact you by phone or email? Do you want them to buy your products or services? Do you want them to stay abreast of your company's news or view your online events calendar? If you're like most website owners, you'll want your content to do all this and more.
In order to get your audience to do some or all of these things, you're going to need to craft website content that's easy for them to read and understand. Consider the age, education level and technological proficiency of your audience when writing your content. You don't want to be too wordy or too formal when writing your website content. Use simple language and write concisely. While you want to maintain a professional tone, don't be too stuffy either.
Format Your Writing for the Web
If you've ever found yourself faced with a webpage that's just an impenetrable wall of text, you can probably understand that you need to format your writing for readability on the Web. Use short paragraphs, and make your writing as easy to understand as possible. You should pay attention to grammar, but avoid complicated punctuation. You can draw attention to important passages in your text by bolding the font, but don't overuse this technique, or it will lose its punch.
When writing content for the Web, remember to leave plenty of white space. Headings and subheadings are a great way to break up long blocks of text and give you a chance to insert search keywords. Bulleted lists are also a great way to break up text.
Write for SEO
When you're writing website content, it's important to consider and include SEO keywords that help search engines recognize the content and relevancy of your page. Don't cram in too many keywords. You want to write the content in a natural way for human readers primarily, but include keywords in sensible context so that search engines will index the page and associate it with those keywords. You can accomplish this by being specific about what your business does; don't assume that users will automatically know.
Content is one of the most important elements of your website. Write concise, engaging content that's easy to read and optimized for search, and you'll be surprised how quickly your webpage rises to the top of search rankings.