Latest Posts
Subscribe to this blog's feed

The eBiz Blog
If you enjoy our posts, please share them using the social media options to the left or end of each post.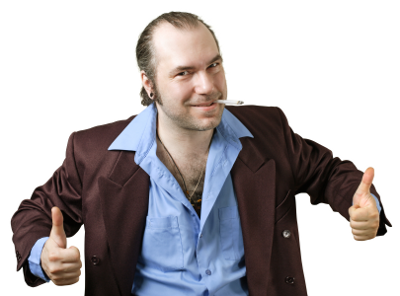 You might have the best product in the world, but no one will buy it unless your business seems trustworthy.
If you rely primarily on the Internet to sell your work, you need to win your customer's trust without ever seeing them face to face or speaking with them one on one. The key to any successful business is happy customers who will buy from you again and again and who will recommend you to their friends and family. Before you can build up an army of brand ambassadors, people who will preach the virtues of your product or service, you have to convince them you're worth it. Let's look at three important components of winning customers' trust online.
Website Design
They tell you not to judge a book by its cover, but you certainly can judge a website by its design. A poorly designed website looks unprofessional and makes astute customers wonder if they'll really get the product promised on its pages. If you have an online retail business, it's crucial to have great ecommerce software that makes your website look professional and function smoothly.
There are many options these days for getting a website online. Most people can learn basic website coding and design within a few weeks, with some trial and error of course. Or a common short cut would be to buy a pre-made template that you like and upload it to a standard hosting account. There are many free website building services available. However, those typically have some limitations that you have to pay to remove or have ads running on them. You could use an all-in-one website design and hosting service like ours that is setup specifically for small business users to quickly design and build a site. You can also pay a pro to create a site for you. We offer that option as well.
If you're not sure how to tell if your website looks trustworthy or not, here are three good tips:
1. Don't use a bunch of images that flash or sparkle. A professional look lets the product speak for itself. Lots of moving or flashing elements distract from the core selling message.
2. Use plenty of white space. White space is the area of a webpage that doesn't have anything in it. It needs some of that to give visitors a sense of where they should look or to give their eyes a natural path to follow while reviewing all of your information.
3. Don't add clutter. If it's not essential then don't add it. There's no reason to fill every inch of a website with stuff.
The Right Wording
People today are bombarded with requests for their attention and their money, and most of us have learned to stay away from online advertising that sounds too much like a spam email or a used car commercial from TV.
Websites that use industry and audience appropriate language to inform customers about products or services will make a better impression than a website that goes for the hard sell right from the very first page. If your website's copy is full of exclamation points, calls to action like "don't miss out!" or overblown descriptions, savvy customers may think you're trying to swindle them or sell them a product that doesn't live up to your promises.
A good way to tell if you're being too overbearing is to ask a friend to read your website's content aloud to you. You may be surprised at how differently you perceive the words when you hear them spoken rather than seeing them on your computer monitor.
Outreach
The third most important thing you can do to increase your customers' trust through the Internet is to be proactive about creating trust. Two ways to do this are to be active and communicative on social media and to get testimonials from happy customers and use those instead of hard sells on your website.
Being active on social media does not mean go there and hassle people to do business with you. Being active means spend time in the groups or communities where your customers would be. Participate in discussions, be helpful, or useful. Offer free advice or give feedback whenever asked. Being honest, respectful, and helpful will build a solid reputation for yourself and your business. You can't get more trustworthy than that.
Finally, remember: Once you've earned your customer's trust, keep it!