Latest Posts
Subscribe to this blog's feed

The eBiz Blog
If you enjoy our posts, please share them using the social media options to the left or end of each post.
Thursday, January 16 2014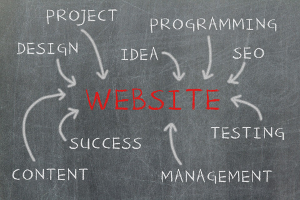 You just completed a massive website redesign. Gone are the outdated graphics, the slow-loading scripts, the 14 different fonts. Your site is now clean, crisp, and easy to navigate. Best of all, it's more reflective of your company and the brand you're hoping to project. Now it's time to sit back, and just watch your traffic grow. Right?
We're sorry to break the news to you, but those days are long gone. You might think that you can just let your site hang out and wait a few more years before the next update (after all, the old site worked fine for a long time) but as any competent web designer will tell you, your site is never done. No matter how great the site looks right now, if you want to stay fresh and relevant and meet your customers' needs, you must constantly tinker with your site and update it with new engaging content.
Been There, Done That
Imagine you're a customer of your business. You've spent some time on your site, read the blog posts, checked out the latest products. A few months later, you check back again — and nothing has changed. The same images still adorn the front page, the same video from the CEO welcomes you to the site, even the same outdated promotion appears on the sales page. As a customer, you'd probably be annoyed or disappointed by the lack of anything new or different. As an owner, you should be aware of how returning visitors perceive your site and concerned that your customers are getting bored or clicking away in search of something more interesting to them.
There's really only one way to prevent that kind of scenario from happening. You need to be proactive in scheduling regular content additions, updates, and evaluations of how your site is performing. Stay on top of your content by removing or updating outdated information and have a reserve of fresh content to add on a regular basis to keep visitors coming back.
More than Unhappy Customers
Failing to keep your website up to date has bigger consequences than just driving away your existing customers. When your site is stagnant, it hurts your SEO results as well. Google and most other search engines penalize sites that never update their content. If your information is old or outdated, the search engine assumes that it's not as relevant as newer content on other sites and your website will appear lower in search rankings. Even if the content is still accurate, the fact that it's old is a strike against it in the game of SEO.
Sure, that's not fair, but that's the world we live in now. There's an old saying that goes, "it's the squeaky wheel gets the grease", which relates the fact that the noisiest part of anything typically gets the most attention. Make your website a squeaky wheel to your customers by always having something new to say with it and they will always pay attention to it.
You May Not Have All of the Answers
Many business owners fall into the trap of thinking that a new website design will solve all of their problems. If a re-design leads to a spike in traffic then that thinking may be partially true, at least for a while. But successful online marketing requires giving customers what they want, not what we think they want, and there's always a chance that you could be doing something better.
Even if you are happy with the way your site looks, it's important to constantly monitor the analytics and watch for trouble spots. Has the bounce rate suddenly increased? Are you seeing patterns of cart abandonment or exits that seem strange? Keep an eye on these numbers and make adjustments where necessary. You might need to incorporate A/B testing to determine the cause of an unusually high bounce rate, or try testing pages on mobile devices to discover problems. The best web hosting services will help you perform these tests easily, even if you don't have extensive technical knowledge.
Managing your website is an ongoing process and if you want to continue to see healthy traffic, healthy search engine results and most importantly, conversions, you need to realize that web development is really a never ending process. Be willing to put in the time and regular effort and your site will then return it's maximum potential.